China Prepares for 7.000-meter Manned Submersible Dive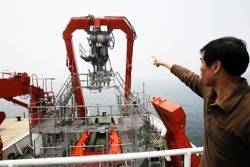 China's manned submersible Jiaolong, mother ship 'Xiangyangghong 09', set out from Qingdao for attempt at Mariana Trench 7,000-meter dive
China's manned submersible Jiaolong, which reached 5,188 meters below the sea during its deepest dive in the Pacific Ocean this year, is on its way to attempt a 7,000-meter dive in the Marianas Trench, according to the State Oceanic Administration (SOA).
China's intention is to develop deep-sea technologies and equipment, including comprehensive research ships, mothership of manned undersea grafts, and deep-sea autonomous underwater vehicles, according to Liu Cigui, head of the State Oceanic Administration (SOA).
The country will further polar research and step up surveying efforts in the international seabed ore deposit areas that it has gained rights to explore, Liu said.
Jiaolong successfully reached 3,759 meters below the sea during a dive mission in the South China Sea in 2010, making China the fifth country able to send a man 3,500 meters below sea level, following the United States, France, Russia and Japan.