Subsea 7 Completes Girassol Repair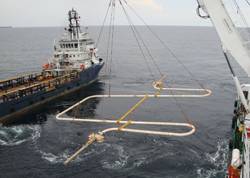 Subsea 7 reports it has completed the Girassol Pipeline Repair Project for Total E&P Angola. The project was an entirely diverless pipeline repair in 1350m water depth and was based on a technical design competition issued by Total which resulted in Subsea 7 being awarded the contract for the design, manufacture, testing and operation of a new deepwater pipeline repair system (PRS). The system would then be used on the repair of a damaged 12-in. water injection pipeline in the Girassol field, offshore north-west Angola. The PRS system comprises a set of permanent equipment such as the spool deployment frame, rigid spool piece, end connection skids and two mechanical pipeline connectors together with a suite of ROV deployed or operated tools for preparing and aligning the pipeline prior to the connector installation.
The Project management and engineering was performed at Subsea 7's office in Aberdeen, UK, and the in-country works supported from Subsea 7's facilities in Luanda, Angola. The offshore phase comprised two separate phases. In the first phase the permanent works equipment was installed on the seabed at the damage location. In the second phase the ends of the damaged pipeline were lifted, prepared and aligned before the mechanical connectors were installed, set and tested with annulus tests onto the previously installed spool piece. Final confirmation of the repair was achieved by a pipeline leak test from the Girassol FPSO which was completed in December 2009.
Graham Sharland, Subsea 7's COO – Africa Region said, "We are delighted to have successfully completed this major pipeline repair project for Total. The Girassol repair represents another milestone in deepwater intervention. The solution, developed in-house by Subsea 7, has the potential to be used in a range of Life-of-field applications as the equipment and technology is fully transferable. We look forward to many successful similar projects."
The Girassol Field is located approximately 210 km north-west of Luanda, Angola in water depth of approximately 1350m.