HII Subsidiary AMSEC to Move HQ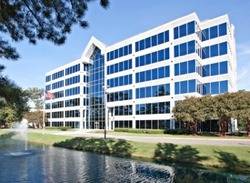 Huntington Ingalls Industries Subsidiary AMSEC LLC to move headquarters to new 'AMSEC Center'
Huntington Ingalls Industries has announced that its AMSEC LLC subsidiary has picked an existing building in Virginia Beach for its new headquarters.
AMSEC had been engaged in a two-year search to identify a new location in the Hampton Roads area for its headquarters. AMSEC signed a 10-year lease agreement with the Olympia Development Corp. for the property located at 5701 Cleveland St. AMSEC will occupy approximately half of the six-story, 126,000 square foot building adjacent to Interstate 264. AMSEC is relocating about 300 employees from its Guardian Lane location in Virginia Beach to the newly renamed "AMSEC Center." AMSEC expects to be operating from the new headquarters by late November 2012.
AMSEC LLC is a subsidiary of Huntington Ingalls Industries. With approximately 2,000 employees in 27 locations nationwide and overseas, AMSEC is a full-service supplier to the Navy and commercial maritime industry, providing naval architecture and marine engineering, naval ship systems assessments, maintenance engineering, waterfront maintenance support, acquisition program support, shipyard industrial engineering and C4I installation and support services.
AMSEC also provides life-cycle integrated logistics services, including technical manual development, provisioning documentation, spare parts management, training development and delivery, and software development.