Wärtsilä New Engine Test Successful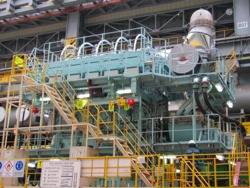 Wärtsilä successfully tests new RT-flex50 version D low-speed engine with turbocharger on driving end side
This new Wärtsilä engine supports the industry's need for low-speed, 2-stroke engines for smaller vessels. It offers lower operating costs and improved environmental sustainability.
With the addition of this engine, Wärtsilä now has an additional 2-stroke engine that can be fitted to smaller vessel types. The derated engine runs on lower rpm's and features reduced fuel consumption, thereby enabling lower emission values to be achieved – including smokeless operation, especially at low engine load.
The RT-flex50 version D engine with turbocharger on the driving end side expands the possible applications of Wärtsilä 2-stroke engines with 50 cm cylinder bore for new vessel constructions.
Due to its narrow design, the new engine version will be used for ship designs with slim stern sections where the current standard execution, with turbochargers mounted on the exhaust engine side, does not fit.
The RT-flex50 version D can now be used instead of other engine types featuring a smaller cylinder bore and higher speed. In many cases the higher performance of the cylinders allows the use of one less cylinder and can, for example, reduce maintenance costs. Thanks to the low speed of the engine and propeller, the total fuel consumption of the vessel is considerably reduced.
The Wärtsilä RT-flex50 is a low speed, 2-stroke engine with fully electronic control of the exhaust valve activation and fuel injection. It is designed to operate on a wide range of fuels, from marine diesel oil (MDO) to heavy fuel oil (HFO), of different qualities.