Successful Opening Weekend for Ulstein Expo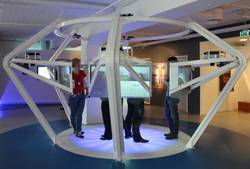 ULSTEIN's new company exhibition, ULSTEIN EXPO, opened its doors to the public this past Friday, June 17. The opening was a success, with hundreds of visitors during Friday night and Saturday. Additionally, several groups have already booked guided tours of the exhibition in the coming months.

"We are very happy with the turnout at the opening weekend, and we hope that the exhibition will become a popular attraction for people in and visitors to Ulstein and the region," says Gunvor Ulstein, CEO of Ulstein Group.

ULSTEIN EXPO tells the story of Ulstein Group's past, present and visions for the future through films, audio recordings, pictures, objects and text. The permanent exhibition will be open between 11 am and 2 pm on the following Saturdays this summer: June 25, July 9, July 23, August 6, and August 20.