GL Wins 4 Suezmax Tankers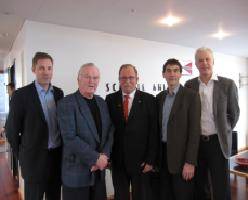 "Nordic Apollo", "Nordic Cosmos" and "Nordic Moon" are now in service with GL classification, "Nordic Neptun" will follow soon. The four Suezmax tankers from Norwegian shipowner "Nordic American Tanker Shipping" (NAT) have been transferred to GL class. The contract was signed in early February in Norway. NAT is the world's third largest stock listed tanker operator.
The company operates only modern double hull suezmax tankers.

The GL Group serves clients from the maritime and oil & gas industries from its six offices in Oslo, Sandefjord, Brevik, Bergen, Aalesund and Stavanger. In Norway, GL offers maritime classification services for ship newbuilding and vessels in operation. In addition, activities in the certification of materials and components and wind energy technology are steadily increasing. Expertise on projects from the wellhead to engineering and operation of installed infrastructure is available from GL's oil and gas engineers. Services include dynamic positioning and marine operations consultancy, design and integrity assurance services for offshore assets, asset performance and optimisation.

Source: GL