Northrop Grumman IBS for Stena Superferries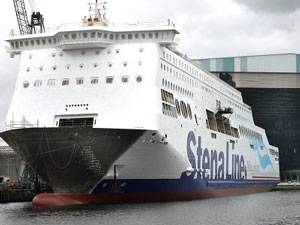 Northrop Grumman Corporation (NYSE: NOC) has been selected to supply integrated bridge systems (IBS) for two new vehicle-passenger (RoPax) ferries being built for Stena Line at Wadan Yards in Wismar, Germany.

The IBSs for the two ships will be based on Northrop Grumman Sperry Marine's advanced VisionMaster FT navigation technology with TotalWatch multi-function workstations. The scope of supply will include radars, electronic chart display and information systems, digital gyrocompasses, adaptive self-tuning autopilots, manual steering systems, voyage data recorders, automatic identification systems, GPS, echosounders, central alarm management systems, sound surveillance systems and complete communications stations to meet Global Maritime Distress and Safety System requirements.

Northrop Grumman will also supervise installation, commissioning and factory acceptance tests to meet Lloyd's Register specifications.

The first of the two 787.4 ft 62,000 gross ton Superferries, Stena Hollandica III, will be delivered from the shipyard in May 2010, with the second ship, Stena Britannica III, to follow in October. The giant vessels will carry up to 300 trucks, 230 cars and 1,200 passengers. Both ships will be placed on the Hoek van Holland-Harwich route.