Superyacht Marina Port Vell, Spain, Breaks Ground on New Structures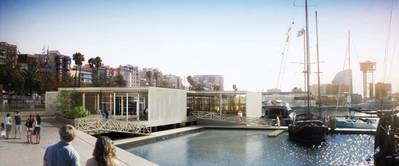 Superyacht destination Marina Port Vell (MPV), Barcelona, Spain, informs it has broken ground on both its restaurant and yacht receiving buildings, which marks the ultimate phase of Marina Port Vell's complete renovation with final ribbon cutting expected in October 2014.

MPV say that essential to setting tone and expectation, Sèsam Restaurant and The Gallery — the reception and business center building — feature carefully planned and executed architectural and interior design. The buildings feature architecture by Barcelona's renowned SCOB Architecture and Landscape Studio. "Sèsam's design seeks to integrate with the other architectures of the marina, whilst at the same time understanding its place within the city of Barcelona" says Sergi Carulla, SCOB founding partner.

With Barcelona increasingly recognized as a thriving hub of many world-class events, Sèsam is certain to be popular with companies looking for somewhere special for corporate events, press launches and photo shoots. "Built on poles, there's nothing like Sèsam anywhere in Barcelona," Nachoom explains. "It rises out of the sea and invites Barcelona to come in and join the party. Sèsam will quickly become the place to go, and to be seen." The reservation-only Sèsam features valet parking and opens in October.

"The Gallery" — Marina Port Vell's two-story, 2750 square meter yacht and crew reception building — also features the award-winning capabilities of Sergi Carulla and Oscar Blasco (SCOB) with its crew area fashioned by Equipo Creativo. It is being built into the sea while incorporating sustainable practices. Designed specifically to handle weather conditions and to control light and interior temperature, it is cloaked in a white cement skin manufactured by Escofet, a traditional Catalonian company known for more than 100 years for its stunning architectural accents throughout Barcelona, including pavement tiles on Passeig de Gràcia.