Foran used for Diving Support Vessel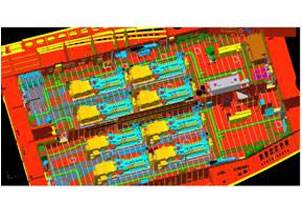 Foran was the CAD/CAM system used for the engineering of the Acergy Havila Project, a new Diving Support Vessel (DSV) built after the agreement between Acergy and Havila Shipping. As there were many companies involved in the project, different subcontractors have acquired the new FCM module, which is a Foran solution developed by SENER for visualization and checking purposes.

The Acergy Havila Project will be the DSV specifically designed for efficient diving operations in the harshest environments. The vessel will have a length of 393.7 ft, 75.4 ft of beam and will be fitted with a 250t crane. Classified by DNV (Det Norske Veritas), the Acergy Havila will have high transit speed, an ice-class hull, class-3 dynamic positioning and be in compliance with the most demanding maritime and environmental regulations worldwide. The ship has been nominated for the ship of the year in Norway 2010.

The Foran FCM module is a tool for reading and querying 3D scenes or models defined in Foran. Reading operation can be carried out either via online access to the database or through other specific files. The module also allows import and export in different formats and can perform the following tasks: commands to obtain points coordinates and distances, access to all points of the 3d model, functions to query the model, calculation of coordinates, weight and center of gravity, easy visualization options by using clipping planes, options to apply transparencies to the objects in the scene.