YDSA Supports Members with Training Day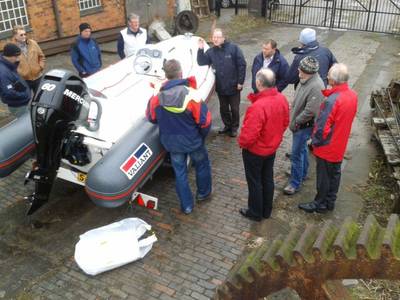 On March 7th the Yacht Designers and Surveyors Association's (YDSA) Northern Forum, held the first of its two annual training events, with a full day dedicated to the subject of Small Commercial Vessel (MCA) Coding.
The event was held in the conference rooms at Ellesmere Port Boat Museum and outside with 12 members attending.


The training session was run by Nigel Ling, a Fellow surveyor and one of the original members of the YDSA Certifying Authority, which was founded as part of the YDSA in 1993. Mike Fox, another Fellow YDSA member, supported Nigel during the training day, and arranged for one of his clients, MES Marine of Flintshire, to provide a craft for use as a practice demonstration for coding.


Jane Gentry, CEO at the YBDSA said: "The YDSA Northern Forum's training days go from strength to strength and continue to provide members from the north of the UK with training opportunities including this one which gave greater insight into the subject of MCA coding. As ever, the day was filled with questions, discussions and debates were free flowing, and coding surveyors of the past, present and future all agreed that the day was of enormous benefit. Members from other parts of the UK and from overseas often also attend."


The YDSA also enjoyed a successful 2013 conference on board historic ship HQS Wellington in London, which provided the perfect conference venue. The YDSA is of huge importance to its members, enabling them to enjoy valuable networking time, as well as receiving valuable information relevant to their retrospective industries. More than 80 delegates - drawn from YDSA and YBDSA Associate members - filled the vessel's Court Room to hear presentations from Frank Anderson, a partner with Burgoynes on the Forensic Investigation of marine fire, followed by a presentation from Richard Duckworth from Sea-Fire Europe on Clean Agents for Fire Suppression. The afternoon sessions saw Paul Winter from Winter & Co Marine Insurers speak about the importance of having correct insurance in place to minimise the risks that members may be exposed to in having insurance claims made against them. Finally, Nigel Clegg from Clegg Associates, who specialises in paints and coatings, gave a presentation on the appreciation and costs of superyacht paintwork.


During the day, the YDSA also raised £200 from a champagne raffle to raise funds for 'Duet' which is being skippered by senior YDSA member, David Cannell, in this year's Fastnet Race. 'Duet' was built in 1912 and is a gaff-rigged yawl, part of the Cirdan Trust fleet used to provide sailing experiences for disadvantaged young people.