Milford Haven Begins Trial of 3D Surveillance System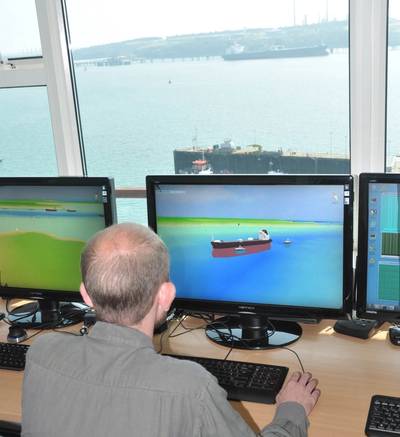 Milford Haven Port Authority has begun a trial of advanced C-Vu 3-dimensional VTS display software from GeoVS.
The system has been installed to establish whether its clarity of presentation and viewing versatility can enhance situation awareness and ease of interpretation for the port's vessel traffic controllers. The technology is unique in that it transforms a traditional two dimensional radar display into a three dimensional panorama in which, instead of appearing as featureless radar targets, vessels on the display appear as they really are. Consequently tankers look like tankers and tugs look like tugs and their relative sizes and locations are drawn accurately and shown in real time.

The display may be said to look like a simulator when it is, in fact, a real time presentation of radar, ECDIS and AIS data but integrated and shown in a way that is unlike anything else on the market today. GeoVS, the South Wales company that developed the technology, believes that these features make the display instantly understandable. This is claimed to drastically reduce any risk of radar targets being mis-identified and gives port controllers a clarity of vision that has never been available before.

Milford Haven is one of the world's largest LNG terminals and is the first port in the world to try the technology. Harbourmaster Mark Andrews is optimistic that it will bring some valuable benefits as his port traffic controllers explore its capabilities. "The key is for us to know whether the users in our port control room will find it of value on a regular basis," he said. Although that would only be revealed with time, he had been immediately impressed with the system's ability to provide different perspectives on a situation. Automated surveillance is available with the C-Vu's virtual cameras that can, for example, give a port controller the same real time view that would be available from a distant aircraft or from the bridge of a ship that is being monitored.

"This will definitely be of value in incident investigation," said Mark Andrews. "It will enable us to see what happened from many different view-points and may help witnesses recollect their experiences more accurately. We now have the capacity to re-live an incident in a way that cannot be achieved by a Voyage Data Recorder and from the view point of vessels that may not be equipped with VDR anyway."

"I also believe that the C-Vu system will be a useful management tool as it will enable us to collect statistics about vessel movements," said Mark Andrews. "The vessel tracks that it will collect as ships are entering and leaving the port will be extremely helpful when we are planning construction work and will enable us to make capacity studies using our own data." Alastair MacDonald, managing director of GeoVS, is confident that the port's VTS operators will find the system helpful. "The three dimensional presentation is a more natural way of viewing a situation and the availability of bathymetric data makes the display more informative than anything available at present. The draft of vessels can be seen in direct relation to the depth of water they are operating in and also in relation to real time tidal variations provided by tide gauge data."

According to GeoVS, bathymetric data and C-Vu® 3D models are created automatically from ENC S57 ECDIS charts and can be manually enhanced with additional features such as port buildings and landmarks. Hydographic data can also be quickly and easily updated from a port's own survey boats to create a display for the controller that is technically accurate while also being more visually accessible than when it is presented on an ECDIS. The C-Vu® system has been developed from studies made at Cardiff University that looked at the ways in which displays can be made more easily understood by their users. The availability of advanced 3D cartographic displays is now said to eliminate any confusion or ambiguity from the image that an operator is required to interpret. "This can be a vital step forward for people working in safety critical roles where they are required to make decisions based on what they see on the screen and how they interpret it," said Alastair MacDonald. "We believe that VTS operators will quickly recognise the benefits of the new system that we hope will remove substantial elements of stress and fatigue from their jobs and will enable them to operate with enhanced confidence and efficiency." For more information visit www.geovs.com