Working Crane Surveillance Camera Unveiled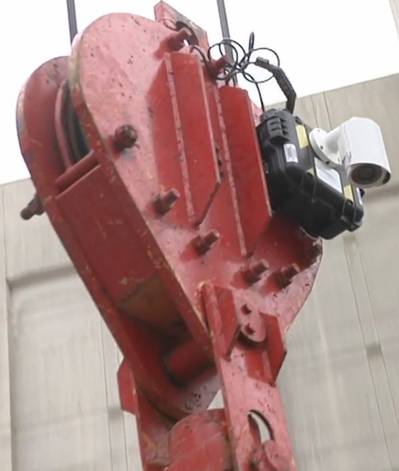 GM Engineering Services (GMES) announces HoistCam, a rapidly deployable wireless high visibility surveillance solution.
Crane operators can unwittingly cause death and injury when they cannot see what they are doing, even with a signalman. To ameliorate this problem GMES have come up with their HoistCam solution.
Christopher Machut, GMES Chief Technology stated, "HoistCam places the eyes of the crane operator anywhere in and around the construction grounds or marine port. This provides them with line-of-sight thus ensuring a safer work environment as well as higher efficiency by the crane operator. In effect, by solving an OSHA safety concern, crane operators can now become more productive and more confident in their work."

Unlike traditional camera systems that are permanently affixed to a crane, HoistCam is completely wireless with the only permanently mounted components on the platform being the receiver's antenna along with the crane operator's display. HoistCam also effectively eliminates the distractions and complexity of more costly camera systems by removing the joystick from the operator's cab.

CTO Machut continued, "While researching current technologies of our competitors, we found that the operator was distracted when they had to take their hands off the crane's controls to constantly adjust the camera. Now, with the ability to strategically position HoistCam as required by the lift or task at hand, riggers and crane operators decide where to locate HoistCam on the crane or the construction site – not the manufacturer."

Mounted with powerful magnets and secured with a safety lanyard, HoistCam can be installed in a matter of seconds. HoistCam is designed to withstand the harshest environments, will operate 24/7, day or night, and can be installed anywhere from the crane boom to the hook block. Customers have also used Hoistcam as temporary surveillance platform in industrial facilities as well at marine port security.