NY Waterway Ferries Fit Video Surveillance System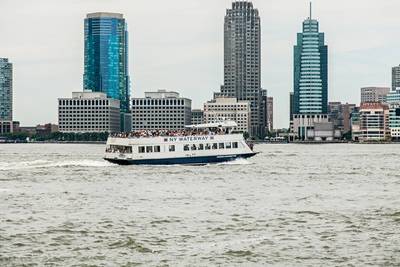 The 8 million annual passengers that travel the New York Harbor on NY Waterway ferries now do so more safely with a system that includes hundreds of Interlogix IP and analog cameras, transmitting from moving ferries to a land-based security command center via a fast-roaming wireless mesh network based on multiprotocol label switching (MPLS) by Fluidmesh Networks.
Background
NY Waterway is the nation's largest privately owned commuter ferry company, transporting 30,000 riders a day between 22 landings and terminals along a 100-mile corridor in the Hudson and East rivers and upper New York Harbor. While the company has always placed a high priority on security, monitoring real-time events on 35 ferries traveling up to 45 miles per hour, often in harsh weather conditions, can be a major challenge.

The solution, paid for through a grant from the U.S. Department of Homeland Security, deployed Interlogix cameras connected via Fluidmesh's MPLS-based wireless mesh network. The network spans the service area and provides seamless connectivity to transmit live video from the ferries, terminals and landings for review by company security personnel.

The system
A.A.S. Technologies, the system integrator, specified Interlogix TruVision® analog cameras onboard each ferry to monitor the passengers and crew. The cameras chosen were weather- and vandal-proof, day/night dome cameras with infrared capabilities for low-light situations. These cameras, along with TruVision digital video recorders (DVRs) and IFS™ switches, also from Interlogix, provided the open-source platform for real-time, high-quality images that the application demanded.
Anil Sookoo, principal at A.A.S. Technologies, said that when Hurricane Sandy slammed into New York City last October many of the Interlogix cameras were left underwater for two days. "We took the cameras out, put them back up and they worked," he said.
For more information go to: www.interlogix.com/nywaterway