Odfjell Results 'Improving, But Not Yet Sustainable'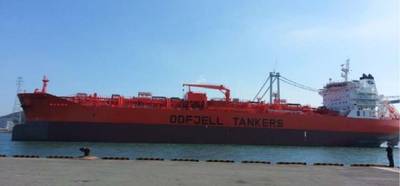 Norway-based tanker and terminal company Odfjell reported third quarter losses despite revenue gains and the formation of a gas carrier new joint venture, among several "improvements."

Odfjell reported third quarter 2014 chemical tankers EBITDA of $26 million, compared with $24 million in second quarter, as activity in the chemical tanker markets in third quarter was quite similar that of the previous period.

Reduced spot trading to Asia from Europe and the U.S. caused downward pressure on freight rates as fewer cargoes where available. Time-charter results were down by 3%.

Towards the end of the quarter the CPP market improved, which the company expects will positively affect also the chemical tanker sector. Lower oil prices have started to reduce bunker costs, but the downward trend in prices for oil products also seems to hamper trade and the activity in general.

Delays in port continue to rise, leaving even more ships competing for the already limited berth/dock availability at the key petrochemical hubs, the company noted. This creates scheduling challenges for both customers and suppliers.

In October the company took delivery of the third of four coated chemical tankers from the Hyundai Mipo yard in South Korea. The last vessel is expected to be delivered in the fourth quarter. Vessels number one and two are on long-term bareboat charters to Odfjell, while the two remaining units will be fully owned by us. The newbuildings have been fully financed.

Odfjell's joint venture for our LPG/Ethylene vessels became effective September 29, 2014 when the transaction was closed concerning the sale of 50% of the shares in Odfjell Gas AS. A capital gain in excess of $6 million was realized as a result of this transaction.

In September, two 9,000 cbm LPG/Ethylene carriers Bow Gallant and Bow Guardian joined the Lauritzen Kosan pool, which now consists of 13 such vessels in total. Trading the vessels in a larger entity should create synergies and stability that will benefit our operations, the company said.

Meanwhile, Odfjell's shareholding in the tank terminals business delivered an EBITDA of $4 million in the third quarter. With the exception of the tank terminals in Rotterdam and Charleston, the terminal results were positive and in line with previous quarter..

Odfjell's cost cutting and efficiency review was announced in May and fully mobilized as from July. Since then, the process has been organized through work streams focusing on operating expenses, G&A, bunkers and trade optimization. During the next two months all identified cost reductions will be subject to risk assessment and detailed planning. Implementation will take place as from January 2015. However, the company said it will continue implementing cost saving and efficiency initiatives related to reduced bunker consumption, trade optimization and selected cost items. According to Odfjell, the immediate initiatives are expected to bring an annualized bottom line effect in excess of $50 million when fully implemented.

Odfjell expects fourth quarter of 2014 to improve from the third quarter for chemical tankers on a slightly stronger market, contract renewals, lower bunker costs and a reduced cost base. With regard to terminals, the company anticipates improved results at Odfjell Terminals (Rotterdam) due to increased utilization and a lower cost base, and for the remainder of the terminals, the company expect a slight increase in earnings due to increase capacity.