Swire Oilfield Services invests in North Sea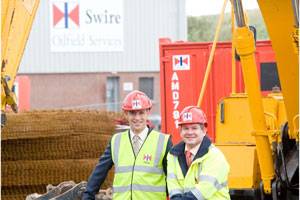 Swire Oilfield Services, a leading supplier of specialist offshore cargo carrying units (CCU), is defying market conditions by establishing Aberdeen, UK as a Centre of Excellence for its Cargo Carrying business with a $1.2m investment, creating five jobs.

Work has already begun on the new paint curing facility at the company's fleet refurbishment workshop in Aberdeen. The three acre site is scheduled for completion on the 1st of December and once fully operational, personnel including shot blasters and painters will be hired to service the new hub.

The workshop will complement Swire's existing $2.2m workshop which was opened in August 2008. The site was constructed to accommodate increasing demands for CCU refurbishment of the company's UK-based and supported rental units, allowing Swire's experienced and skilled employees to repair, weld and paint its extensive UK fleet from a single location

The paint curing service centre will use the latest generation of gas catalytic infra red heaters to reduce paint curing times and ensure the most effective paint coating life is delivered. It will also increase Swire's workshop capacity, allowing the company to add to its own maintenance regime as part of its commitment to continually improving all areas of its business. Swire can also extend its ability to work with customers who operate their own fleet of units, allowing them to cost effectively maintain their units to the highest standards as part of a managed program.

Inline with the company's focus on safety, is the concreting of the entire workshop yard which will have substantial benefits for the operation of fork-lifts and align Aberdeen with Swire's other bases.

This investment is part of the Swire's constant push for development during the current economic downturn. The company recently acquired Australia based Weir OCI which took investment in the region to more than $23.9m in the past year.