New Synapsis Radar and ECDIS Launched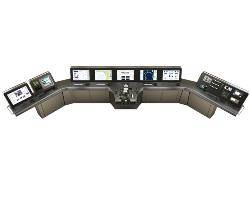 The German navigation system supplier Raytheon Anschütz introduces a new series of Radar, ECDIS and Conning systems. The new Synapsis Workstations are part of the Raytheon Anschütz exhibit at Norshipping 2011. The new generation of Synapsis (Chart-) Radar, Synapsis ECDIS and Synapsis Conning are an integral part of the recently launched Synapsis Bridge Control series.
The wide-screen, task-orientated Synapsis workstations are based one an innovative system architecture, which uses standard hardware and software to provide highest scalability. A standardized PC with solid-state disk and passive cooling instead of fan was designed to increase reliability and lifetime. Featuring a compact design as well as powerful processing capabilities, the new PCs are ready for universal use on various ship types. Possible configurations are ranging from a stand-alone Radar or ECDIS workplace to a full integrated Multifunctional Workstation. Thereby all relevant navigation data such as charts, routes and sensor information are stored independently on each system, whereas a newly developed Integration Platform improves interfacing and controls all configurations, tasks and colors of the workstations.

With regard to performance and function, the new Synapsis (Chart-) Radar and Synapsis ECDIS are based on the proven NSC series, but are enhanced with new functions to further increase safety and efficiency while keeping work for the watch keepers as simple as possible. Both, new Synapsis (Chart-) Radar and new Synapsis ECDIS, are now fitted with a new integrated data quality management that includes a sensor status display as well as a manual and automatic sensor selection choice. The new data management is to ensure that all workstations use consistent and best available sensor information for safe navigation.

The Synapsis ECDIS features a new integration of weather data and weather forecast symbols, that help to optimize route and voyage planning with regard to fuel efficiency and finally to avoid damages to ship, loading or passenger. The new system architecture also allows the Synapsis ECDIS to interface with a DP system, for example in terms of sharing waypoints of a planned route. In addition, the Synapsis ECDIS includes intelligent features such as AIS own ship data input, NAVTEX display, automatic route planning and online chart update to make work with ECDIS more simple and efficient.

For the new Synapsis (Chart-) Radar, Raytheon Anschütz announces a Radar video merging mode to improve detection capabilities when using different Radar sensors on board. Together with the unique SeaScout collision avoidance function this will further contribute to increased safety and maximized situation awareness on the bridge.

Apart from integrating the operator interfaces of the data quality management and an intelligent alert management, the new Synapsis Conning remains highly flexible for individual page configurations. As an example, the new integration capabilities make possible that Raytheon Anschütz presents the unique Voyage Efficiency Monitor for the joint display of navigation data with engine automation data and loadmaster computer data. In a typical configuration the Voyage Efficiency Monitor combines basic navigation data and autopilot settings, wind and drift, steering correction angles, roll stability, draft and trim, yawing, rudder resistance, rudder action and fuel consumption. The combined display enhances bridge operations, particularly with regard to the rudder steering, which can help to reduce hull resistance and fuel consumption.

Together with its local distributor in Norway and Sweden, Syberg AS, Raytheon Anschütz presents its Synapsis Bridge Control system at Norshipping in Oslo this May. The new Synapsis series of (Chart-) Radar, ECDIS and Conning as well as the latest generation of Nautosteer Advanced Steering control are demonstrated at booth #B03-12.
Source: Nor Shipping