Wärtsilä Main Engines Ordered for Nine Kuwait Oil Tankships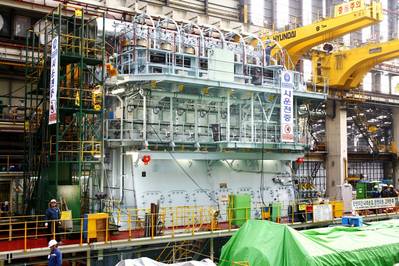 Wärtsilä to supply main engines for a series of 9 large vessels being built by Daewoo for Kuwait Oil Tanker Co. (KOTC)
Four VLCCs (Very Large Crude Oil Carriers), one Aframax tanker and four medium-range tankers are being built at the Daewoo Shipbuilding & Marine Engineering (DSME) shipyard in South Korea.
The VLCCs will be fitted with 7-cylinder Wärtsilä RT-flex 82T engines and a Waste Heat Recovery System, which utilizes exhaust gas energy to generate steam which is used to operate a turbo generator that produces ship's electricity supply.
The Aframax vessel will be powered by a Wärtsilä 6-cylinder RT-flex 58T main engine, and the medium-range tankers by a Wärtsilä 7RT-flex50D main engine.
All engines will be built by the Engine & Machinery Division of Hyundai Heavy Industries Co., Ltd. (HHI-EMD), which is a Wärtsilä licensee since 1975 and is based in South-Korea. The orders were received during the first half of the year.
KOTC has considerable experience with Wärtsilä's engine technology. The company already has two of its vessels fitted with Wärtsilä main engines and four vessels fitted with Wärtsilä auxiliary engines.
"The choice of Wärtsilä RT-flex engines ensures that these new vessels will be both fuel and energy efficient, and that their emissions will be minimized. It is obvious that the Wärtsilä RT-flex82 engine is increasingly becoming the preferred choice for VLCCs worldwide," says Lars Anderson, Vice President Merchant, Wärtsilä Ship Power.