German Tankships Order KVH mini-VSAT Equipment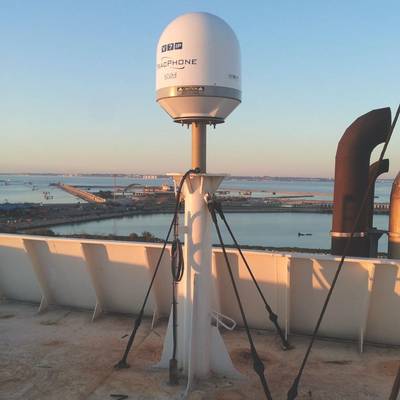 12 RHL Hamburger Lloyd Tanker GmbH oil and chemical tankers will be outfitted with KVH's TracPhone V7-IP satellite antenna systems in the next month, with a potential for 16 additional container vessels to receive KVH systems.

The KVH systems will be installed on sophisticated tankers known as Safety Chemical Oil Tanker (SCOT) 8000s, which are considered environmentally friendly because their advanced design is intended to minimize the risk of a spill. RHL Hamburger Lloyd Tanker was heavily involved in the design and construction of the SCOT 8000 tankers, which are propelled and maneuvered by two separate drive systems and are built with a double hull; the tankers have a capacity of 8,000 tons.

KVH's TracPhone V7-IP is a 60 cm (24 inch) diameter, enterprise-grade, 3-axis, gyro-stabilized antenna for Ku-band service worldwide. The system provides data rates as fast as 2 Mbps shore-to-ship, and 1 Mbps ship-to-shore, and high-quality VoIP phone service. TracPhone V7-IP is designed and optimized for mini-VSAT Broadband service, which is the market share leader in maritime VSAT, according to independent industry reports published in 2012.

TracPhone V7-IP includes the Integrated CommBox Modem (ICM), a streamlined belowdecks unit that replaces the need for a rack full of components and integrates all antenna control, onboard network management, and modem functions in one small box. This makes installation fast and easy, significantly reducing deployment costs.

"RHL Hamburger Lloyd Tanker is known as a leader and innovator with its involvement in the SCOT 8000 tankers, and they are showing forward thinking again by choosing KVH's end-to-end solution for onboard management and connectivity," says Brent Bruun, executive vice president of KVH's Mobile Broadband Group. "We are excited about the opportunity to work with them to provide a world-class maritime broadband solution for their vessels."

About KVH Industries, Inc.
KVH Industries is a leading provider of in-motion satellite TV and communications systems, having designed, manufactured, and sold more than 175,000 mobile satellite antennas for applications on vessels, vehicles, and aircraft. KVH is also a leading provider of commercially-licensed news, music, and entertainment content to many industries including maritime, retail, and leisure. KVH is based in Middletown, RI, U.S.A., with facilities in Illinois, Denmark, Norway, the U.K., Singapore, the Philippines, Cyprus, and Japan.