Bestobell Exhibits LNG Technology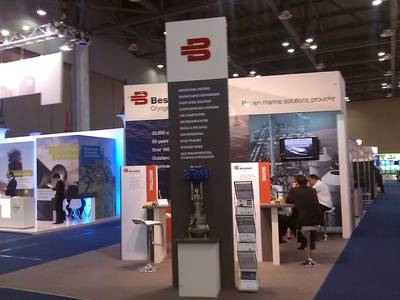 Bestobell Valves, part of the President Engineering Group (PEGL), attended the Gastech 2014 exhibition in South Korea recently and said it had a great response from visitors across the globe, including a significant number from South Korea and Japan. The company showcased its cryogenic valves, which are already widely used for industrial gas, LNG marine and land-based LNG (liquefied natural gas) applications across the world.

This included demonstrating its DN100 Globe Valve with pneumatic actuator and its DN25 Miniature Needle Globe Valves, which had a cut-out section enabling visitors to see the inside arrangement of the valve and its innovative bonnet and flange design.

Bestobell was joined on its stand by its agent Samgong Trading, which represents the company on the marine side of the business in South Korea and Ntech-I, which covers the industrial gas sector in South Korea on Bestobell's behalf. The company was also able to take visitors to view some of its valves in use at a nearby Ntech-I facility and to see some of Bestobell's development projects which are currently undergoing tests.

The exhibition was also an opportunity for Bestobell to reveal its new Marine product catalogue, which received a great response. In addition, a video on the stand demonstrated to visitors the history of Bestobell and gave an overview of its factory in Sheffield.

Duncan Gaskin, Sales Director for Bestobell Valves, said, "Gastech was a great opportunity for us to enhance our relationships with existing customers in this region and to discuss new projects with them. We also made a number of new contacts, which will hopefully give us the opportunity to further develop our business here. It was exciting to be in South Korea, a country renowned for being at the forefront of LNG development and to be able to demonstrate our expertise in valve technology for LNG applications."

The Gastech exhibition brings together energy professionals working in the natural gas and liquefied natural gas (LNG) industries. Held every 18 months, the exhibition offers exhibitors the chance to share expertise, negotiate directly with suppliers, discuss the latest advances in LNG technology and find solutions that are right for their business.

The next Gastech will be held in Singapore from October 27-30, 2015, in association with Singapore International Energy Week at the Singapore EXPO.