Gas2 Tests GTL Process Technology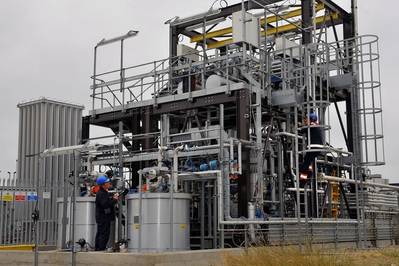 Gas reforming company Gas2 said it has achieved a second milestone at its 3 bpd (barrels per day) Wilton Research Center pilot plant in Teesside, U.K. as it develops a new generation of natural gas-to-liquids (GTL) process technology which has the potential to deliver lower cost solutions for small scale plants.

By successfully commissioning and starting-up the Fischer Tropsch (FT) reactor, using syngas produced in the syngas reactor, the company has produced hydrocarbon liquids. The test run success follows that of the syngas reactor which has been operated successfully at a range of operating pressures, showing minimal loss of conversion at higher pressures.

Gas-to-liquids (GTL) is a two-step petro-chemical process to convert natural (methane-rich) gas into liquid hydrocarbons such as synthetic crude oil (syncrude). The first step produces synthesis gas (syngas) from a combination of natural gas and oxygenate. Step two comprises FT reactor units which convert the syngas into GTL fuels.

Gas2's GTL process is a simplified system compared with other available GTL processes, with one potential advantage being the elimination of the intermediate compression stage between syngas and FT reactors, which are an expensive part of other systems. This could play a significant role in driving down capital and operating costs. Operating syngas reactors at higher pressures with minimal loss of conversion is key to intermediate compression elimination.

Mike Fleming, managing director of Gas2 said, "These results are an important step forward in our quest to commercialise Gas2 GTL technology. We are developing a modular system which will offer significant economic and environmental advantages, with higher hydrocarbon conversion rates than existing technologies. Liquid production matched our expectations at this stage and significantly advances our development programme. It underlines our belief that Gas 2 has a technology with the potential to disrupt the GTL market and create significant long term value for our commercial partners and future clients."

The next steps are to optimise the syngas reactor design and run further parametric tests on the FT reactors in preparation for scale-up engineering.

Applications for the Gas2 GTL technology include:
stranded gas: transforming the economic viability of smaller, more remote gas reserves as well as shale and unconventional reserves where there is no economic access to market.
offering a gas disposal solution for onshore and offshore associated gas thereby preventing flaring and enabling the development of remote oilfields where flaring is prohibited and /or where gas reinjection wells are expensive or detrimental to reservoir performance;
gas conversion to alternative end products including gasoline, diesel, waxes, ammonia, methanol, hydrogen and ethylene for industrial use.