Purfresh Technology Notches Record Year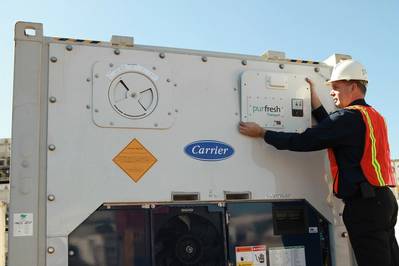 Purfresh Achieves Fifth Consecutive Year of Record Growth for its Ocean Transport Technology. With its new CE mark, Purfresh accelerates production of its new Purfresh Transport system to meet worldwide market adoption.

Purfresh, Inc., a provider of ocean transport and supply chain management technologies that optimize the quality and safety of fresh produce as it moves around the world from the farm to the consumer, today announced a 200 percent year-over-year increase in demand for its Purfresh Transport intelligent cargo protection solution, and the fifth consecutive year of record growth driven in large part by worldwide market adoption. In addition, the Company also announced today the acceleration of production of its Purfresh Transport system, which now displays the CE mark of approval.

In addition to the substantial increase in demand, in 2011 growers and shippers utilized Purfresh Transport to protect more than double the number of commodities shipped year-over-year for ocean voyages ranging from as short as 7 days to more than 40 days. Access to, and global availability of, the cargo protection technology also expanded significantly with more than 20 of the top ocean carriers across more than 140 ports around the world offering the Purfresh Transport solution to their customers.

Engineered with patent-pending intelligent cargo protection technology, Purfresh Transport reduces the risk of cargo loss, enhances food safety, and helps ensure higher-quality arrivals when shipping fresh produce by marine transport. Unlike other approaches—such as temperature recorders, traditional controlled atmosphere and modified atmosphere systems, and fungicides—Purfresh Transport provides full trip transparency along with active atmosphere enhancement to prevent decay, control ripening, and reduce food-borne pathogens. Purfresh Transport is offered as a service by most major shipping lines.