GE Showcases Latest Marine Technology at SMM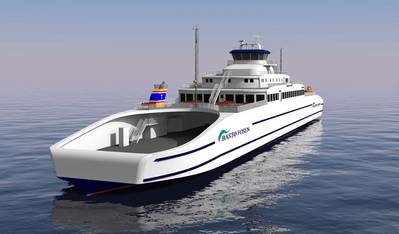 GE's Marine Solutions is showcasing its latest technologies and offerings to date at SMM 2016.

Staggering oil prices, strict environment regulations and volatile economic conditions are among the key factors that add uncertainty to the marine industry. Calling for industry-wide collaboration, GE is taking up the challenge to build more cost-efficient vessels through close partnership with industry leaders.
Recent partnerships include:
GE and Dalian Shipbuilding Industry Co. Ltd. have received approval in principle (AiP) for their jointly developed 20K TEU container ship design to be powered by a GE Combined Gas Turbine Electric and Steam (COGES) system. The container ship design also will allow for increased container carrying capability, lower life cycle cost, better environmental performance and a high level of reliability. The basis of the COGES system is GE's dual-fuel gas turbine, which can meet increasingly stringent worldwide environmental regulations while reducing operating expenses.
Separately, GE and Hudong-Zhonghua Shipbuilding announced an AiP received from the America Bureau of Shipping for a jointly developed liquefied natural gas carrier design, also to be powered by a GE COGES system. This 178,000 cubic-meter LNG carrier design will offer many benefits including additional room for cargo.
Zentech and GE signed the long-term cooperation agreement, combining Zentech's design expertise and GE's smart engineering, to build vessels of the future. The collaboration is already in practice, as GE is set to deliver technological solutions for Zentech's Z-210, which is currently under construction at CSSC Huangpu Wenchong Shipbuilding Company Limited in China.
National Oilwell Varco, Inc. (NOV) and GE recently announced the collaboration on delivering integrated solutions for floating production storage and offloading (FPSO) vessels, combining two industry leaders' complementary product offerings and engineering capabilities to optimize engineering design and solutions for FPSO projects.
Basto Fosen reports smooth sailing for the first IMO Tier III-compliant EGR marine engine. Espen Losoa, technical manager for Norwegian ferry operator Basto-Fosen praised GE: "We are pleased with the performance of the GE 16V250 engine and report smooth sailing with considerably less vibrations for Basto I as the first in-service IMO Tier III certified GE's marine engine. Commissioned in April 2016, besides absolutely no visible exhaust smoke under all load profiles, data from the Basto I ferry show significant savings on fuel and lube oil."
Working with Yue On Shipping, Ltd., Offshore Oil Engineering Company, Ltd (COOEC), GE will deploy the first IMO Tier III certified medium diesel engine in China for its special multipurpose vessel to be built at Yuangpu Wenchong Shipyard.
Tim Schweikert, president and CEO, GE's Marine Solutions said, "Industry-wide collaboration is what we strive for. Our work with customers demonstrates that the future calls for closer collaboration between all industry leaders and stakeholders. Delivering greener and more cost-effective ships is paramount to our continued success, and we will continue to achieve this goal together with our partners."

GE's latest marine technology will also be showcased:
The 6L250 MDC, GE's latest in-line IMO Tier III and U.S. EPA Tier 4-compliant marine diesel engine complements GE's low emissions engine series to suit medium-speed engine needs from 1,700 to 4,700 kiloWatts. GE's MDC engine series is packed with sensors to monitor hundreds of parameters in real time, enabling advanced controls to continuously optimize performance and safety.
The SeaStream Insight, powered by Predix, is the latest innovation in remote monitoring, asset support and predictive analysis. The technology allows operators to make more informed decisions and provides data-driven efficiency by reducing downtime and enabling condition based maintenance.