Singapore Group Technology Center to be Set Up by LR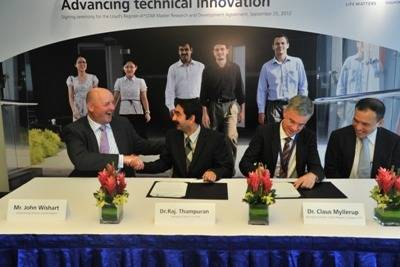 Lloyd's Register to set up a a world-class Group Technology Center (GTC) in Singapore in collaboration with the Agency for Science, Technology & Research (A*STAR)

To maximise the output of the GTC, LR and A*STAR are focusing on four research themes they believe are critical to their public-service mandate:
1. Subsea drilling and well control equipment
2. Risk (including asset performance management and life extension)
3. Deepwater / floating offshore installations
4. Enabling / emerging technologies (including renewables)

The intent is to establish a Joint Lab facility with A*STAR's Institute for High Performance Computing (IHPC) to co-develop applications and solutions in the marine and offshore sectors. This arrangement will promote R&D activities in modelling and simulation, providing bespoke technical solutions for companies in these sectors.

To encourage the development of technical expertise and young engineers, PhD students will be trained at the GTC during the program's initial five-year period. These students will be working on R&D projects between the technology centre and Singapore's institutes of higher learning such as the National University of Singapore and Nanyang Technological University.

"Our investment in the new Lloyd's Register Group Technology Center in Singapore, coupled with the agreement with A*STAR, represents a shared vision to create a long-term centre of excellence for technology, innovation and research that will benefit Singapore, industry and society at large," said Richard Sadler, Chief Executive Officer of Lloyd's Register. "It underlines our global commitment to understanding the sciences and technologies that help to ensure that people are safe and that essential assets perform as required."

Dr. Raj. Thampuran, Managing Director of A*STAR said: "Exciting areas of research include modelling and simulation; designing floating offshore structures, deep-sea drilling equipment and transportation, maritime safety and environment, and marine energy harvesting. This relationship will grow stronger over time and contribute significantly to the growth of these sectors. I am confident that outcomes from our research collaboration will be keenly watched by key industry players."

Singapore's marine and offshore industry has grown significantly over the last few years, recording an output increase of more than 30% from 2006 to 2011, contributing to 5.8% of Singapore's manufacturing output.

In the photo from left to right: John Wishart, Global Energy Director, Lloyd's Register; Dr Raj Thampuran Managing Director, A*STAR; Dr Claus Myllerup, Manager Director, Singapore Group Technology Center, Lloyd's Register, Lim Chuan Poh, Chairman, A*STAR.