TecnoVeritas Wins Approval for UOPV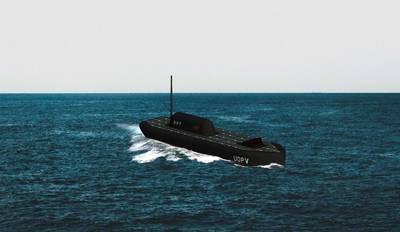 TecnoVeritas, a marine engineering consultancy company, announced that its UOPV (Unmanned Oceanic Patrol Vessel) project was approved by the Fundo Azul, run by the Directorate-General for Sea Policy of the Ministry of the Sea, Portugal.

According to the provider of the energy management services and products for the maritime industry, the project itself is focused on maritime safety.

UOPV is wave propelled and performs equally well on all headings including directly into wind and waves. It has zero emissions and can roam the oceans for very long periods, transmitting data via satellite to shore.

"This extreme endurance coupled with a unique solution to the speed/payload/power balance for unmanned surface vessels (USVs) offers great new potential to all engaged in oceanic monitoring and surveillance," said a press release.

"The vessel was designed to stand the heavy weather of the North Atlantic Seas, developing a military patrolling action in all conditions, having an outstanding stealth behavior on its surface and submerged mode," it added.

According to the company, the UOPV is also an excellent platform for civilian research (marine biology as well as oceanography), due to its space, power and payload availability, as well as to its silent operation.

UOPV – A strategic infrastructure for the Portuguese and European maritime activities, a tool for the future designed by TecnoVeritas and built by Nautiber.