MTU 4000 Engines Power New LNG Terminal Tugs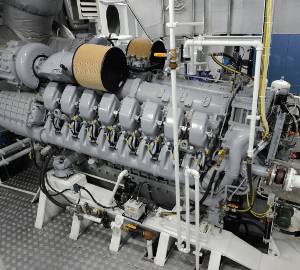 Boston Harbor has been an important shipping center for more than 300 years, from its influx of European immigrants to the wide variety of cargo it handles today. Since the early 1970s, the area has become a major center for unloading the liquefied natural gas (LNG) tankers that supply natural gas to much of the Northeast. Getting those tankers safely to their terminals is the job of ship-assist tugboats such as those operated by Boston Towing and Transportation (BT&T). When BT&T commissioned two new tugs for assisting LNG tankers belonging to global giant Suez Energy North America, it specified them with twin MTU 16V Series 4000 marine diesel engines. The new ultra-reliable, high-speed diesel engines are proving to be ideally suited to this challenging application.
The two new BT&T tugboats are the 39-meter Independence and the 30-meter Justice. Both boats were designed by the renowned naval architectural firm Robert Allan Ltd. specifically to provide support for LNG ships in harbor and at sea in heavy weather conditions. The Justice was built by Martinac Shipyards in Seattle, Washington; the Independence was built by Derecktor Shipyards in Bridgeport, Connecticut. Boston-area MTU distributor, New England Detroit Diesel-Allison in Wakefield, Massachusetts, supplied the engines. The two new boats, the first in the fleet to be equipped with
MTU marine
engines, join a fleet of eight other tugs owned by BT&T.
According to Bill Skinner, marine superintendent for BT&T, "Suez Energy North America is BT&T's largest customer, and they have contracted with us to handle LNG ships for the next 20 years. Based on that contract, Boston Towing was able to finance and build the new tugboats and take delivery of them in late 2009."
BT&T handles approximately 60 LNG tankers coming into the Port of Boston at Everett, Massachusetts, and also tends supplemental LNG shipments that arrive at the Neptune deep-water terminal in international waters about 12 miles off the coast of Gloucester, Massachusetts. The 30-meter Justice was primarily designed to help ships coming into the Port of Boston, while the 39-meter Independence was designed for use at the deep-water terminal offshore. Because of the harsher environment that the Independence works in, the larger tug is specially designed with deck and bulwark deicing for cold weather, and for high winds and steep seas.