APM Terminals Pipavav Receives Maiden RoRo Vessel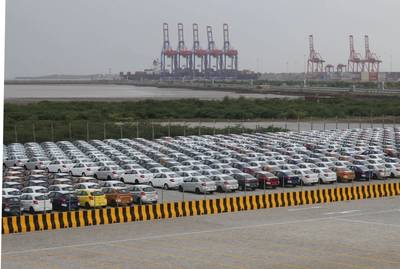 APM Terminals Pipavav (Gujarat Pipavav Port Ltd), one of western India's gateway ports, announced having hosted the maiden call by leading RORO operator Höegh Autoliners vessel – m.v. HOEGH ANTWERP at Pipavav Port.
HOEGH ANTWERP berthed at Pipavav Port in late January, 2016, to load Ford's small and midsized cars, being exported from its Sanand plant in Gujarat. Officials of APM Terminals Pipavav, and the senior management of Hoegh Autoliners, India, were present to welcome the vessel, when it berthed. The Master of the vessel, Capt. Andriy Silayev, and the senior management officials of Ho
egh Autoliners India
were also felicitated by the Port. This is yet another testimony of the infrastructure capabilities and efficiency built by APM Terminals Pipavav to handle large vessels and RoRo operations.
Norway-based Höegh Autoliners is a global provider of transportation and logistics services within the RoRo segment. It has large fleet of vessels for Pure Car and Truck Carriers (PCTCs) sailing in global trade systems. In August 2015,
APM Terminals Pipavav commenced
operations of its RoRo facility and successfully berthed its first RoRo vessel m.v.Grand Dahlia at the port. So far over 10,000 cars have been shipped from Pipavav Port since the commencement of the RoRo facility.
Commenting on the occasion, Managing Director of APM Terminals Pipavav, Mr. Keld Pedersen said, "The berthing of the vessel HOEGH ANTWERP reinstates that RoRo facility at Pipavav Port has been developed with most modern facilities and well trained staffs. With Gujarat becoming a hub for manufacturing, we hope to contribute by offering best logistic support going forward as well".