Two New Tugboats for APM Terminals Bahrain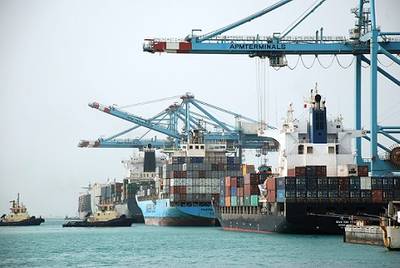 APM Terminals Bahrain, the operator of Khalifa Bin Salman Port, welcome the arrival of two new tugboats to the APM Terminal Bahrain marine fleet. The new tugs were inaugurated at a ceremony on Wednesday, with attendees from the Port and Maritime Affairs, BAPCO, the U.S. Navy and many other Bahraini companies.

The Damen Stan 1606 tugboats will provide additional flexibility to meet the growing requirements of the Bahrain shipping community at Khalifa bin Salman Port (KBSP).

The two new tugboats, Svitzer Dilmun and Svitzer Tylos, are compact, robust and highly maneuverable. These features ensure that the tugs are suited for a number of uses, including towing, mooring, line handling, and passenger transport.

The tugboats were selected for use by APM Terminals Bahrain, after successful trials were held at Damen Shipyards Changde in China, where both tugboats put in an exceptional performance. The tugboats have a bollard pull of 16 tons and their small size means they are able to handle smaller vessels, such as low freeboard ships and barges, efficiently and safely.