TerraMar Networks Partners with Orbcomm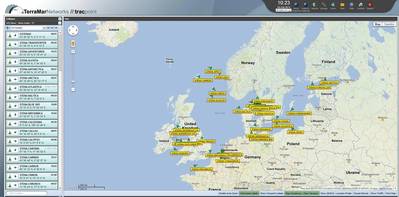 TerraMar Networks Limited has entered into an agreement with Orbcomm Inc. (Nasdaq: ORBC), a global satellite data communications company, to create one of the broadest and most complete maritime asset tracking offerings on the market.

Orbcomm's satellite AIS service receives a ship's identification, position and other critical data. This data can be used to assist in vessel tracking, maritime navigation and safety. Its integration with TerraMar Networks' proprietary fleet management portal, called tracpoint, will now provide customers in the sea port, energy and maritime sectors with a single, leading-edge, global tracking service for a range of vessels and drilling rigs in coastal and deep ocean waters.
Orbcomm's satellite AIS data on the tracpoint service will appeal to a range of end users such as port authorities, commercial shipping lines, oil and gas companies, and logistics providers.


Applications for Orbcomm's satellite AIS data on tracpoint include:
• Fleet monitoring (ability to filter on defined vessels only to create a fleet-specific view)
• Maritime Domain Awareness (visibility of AIS-equipped vessels in a defined regional area)
• Competition analysis (visibility of AIS-equipped vessels, including identification of ownership)
• Trading pattern analysis (visibility of the movements of all vessels of a certain type, such as tankers, worldwide)
• Logistics scheduling and optimisation (visibility of progress of ships compared with the schedule)
• Anti-piracy and other security applications, including SSAS (ability to monitor vessels when in high-risk areas)
• Environmental monitoring (visibility of shipping activity in a given area)
• Maritime safety (accurate location of vessels and visibility of other vessels in the area)


The agreement with Orbcomm to incorporate its satellite AIS data into the tracpoint portal represents an enhancement to TerraMar Networks' existing broad range of fleet management, ship security and asset monitoring solutions.
Tracpoint already supports applications delivered over GSM and satellite networks, as well as displaying data from private terrestrial AIS receivers. Tracpoint includes 'track and trace' on a high-quality mapping interface, a database for centrally recording details of all assets in the fleet, geofencing, and a comprehensive reporting module for analytical support.

The addition of this new service now makes tracpoint a market leader by combining private telematics applications with the open standards of AIS and by giving clients the ability to pull in other asset types (e.g., vehicles and aircraft) into the same mapping display.

Gwyn Roberts, managing director at TerraMar Networks, said, "This is an exciting partnership for both TerraMar and for the maritime sector. The addition of Orbcomm's satellite AIS data reinforces our commitment to providing flexible, customisable solutions to the maritime and energy sectors. We offer the most complete situational picture of logistics activity in a given geographical area – onshore, offshore and in deep oceans, on one convenient platform."


"We are very pleased to welcome TerraMar Networks to our growing list of solution providers around the world," said Marc Eisenberg, Orbcomm's chief executive officer. "TerraMar Networks provides innovative solutions that require a high standard of quality, performance and global coverage. Orbcomm's satellite AIS data meets this need with the most comprehensive coverage and the highest refresh rates of any satellite-based AIS receiver system."