SAL Early on Thailand to Europe Heavy Lift Delivery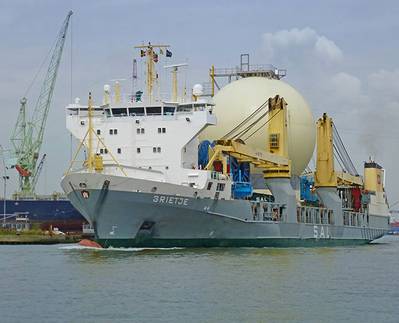 Better than punctually, SAL's 'MV Grietje' delivers sphere tank from Sattahip to Antwerp ahead of schedule.
MV Grietje, a type 161A vessel with a combined lifting capacity of 700 m tons, loaded the sphere tank of 340 m tons measuring 20 x 22 x 24 m in Sattahip in Thailand and as a result of good planning, it was ready for discharge three days before schedule at the destination port, Antwerp, in Belgium.
SAL Heavy Lift
A member of the "K" Line Group, SAL is one of the leading carriers worldwide specialized in the sea transportation of heavy lift cargo.

With a fleet of 16 heavy lift vessels, SAL Heavy Lift say they provide reliable transportation solutions for all types of project cargoes including equipment for the oil and gas industry, (offshore) wind energy, cranes, heavy machinery and floating cargo.

Amongst the trademarks of the fleet are a high crane capacity of up to 2,000 mtons SWL and an unrivalled speed of 20 knots. The latest new buildings of type 183, being equipped with Dynamic Positioning 1 / DP 2, are ready for offshore subsea installations.