The BRAtt: Burchett Robert Allan Training Tug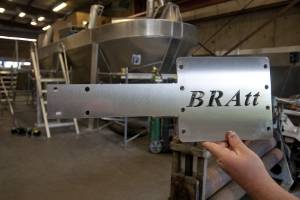 The BRAtt project evolved from Ron Burchett's training programs for tug operators using radio-remote controlled scale models. Why not build a model that is large enough for the operator and instructor to ride on and learn in the same space frame of reference as the boat?

The BRAtt is a 25.6 ft by 11.8 ft aluminum-hulled training tug designed by Robert Allan Ltd, with the designer's distinctive double-chine hull form. Under the counter of the broad stern the hull tucks in quickly providing good water flow over the twin azimuthing drives located aft in the ASD manner. Forward, a relatively deep bow is augmented by a skeg that makes this an escort capable tug. When complete later this spring, the little tug will be able to provide real water training to aspiring assist and docking tug masters without taking an expensive full-size ASD tugs off the job. The boat will be fitted with a fully operational Braden hawser winch forward with the tow line passing through a polished stainless-steel staple.

The propulsion system on the BRAtt is scaled to proportionately represent the full size tugs. It begins with a pair of Cummins QSB5.9-230 HD engines, each delivering 225 hp at 2,600 rpm into engine mounted ZF280.1 gears with 1:1 ratios. To allow for further reduction below the engines 600 rpm idle, the gears have slipping clutches. Flexible Centa torsional couplings are installed between the engines and their gears. Additional flexible couplings are at either end of the drive shafts to reduce vibration and to accommodate any movement in the flexibly mounted engines. The Z-drives are Olympic Model HD3 with 2:1 reduction. The propellers are 25 3/4 inch stainless in stainless nozzles. Both the engines and the Z-drives are mounted with a five-degree angle upward to the stern. The 450 hp twin-engined tug is anticipated to deliver an 8000-pound bollard pull.

Robert Allan Ltd.'s project manager Michael Burgess said, "We have tried to stay all aluminum for the piping and fittings. Where that is not practical, such as the staple on the bow, we have used stainless. The engine is isolated from the aluminum with stainless shims."

Among the many interesting and innovative features of the BRAtt are the four bollards built to also serve as lifting points for the 16-metric ton vessel. The wheelhouse will be fitted on resilient mounts to provide a lower ambient noise level in the training area. In operation there will be room for at most three people on the boat, but ideally just two. In addition to its training functions, the BRAtt can serve effectively as a real tug, doing smaller towing, docking and line-handling duties, and other harbor tasks such as boom deployment, The BRAtt will be unveiled at the International Tug & Salvage Conference in Vancouver in May.