Thirty Years on, Mabel Alice is Still Going Strong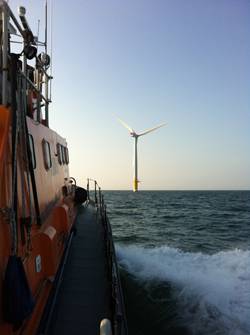 Offshore Marine Support's marine survey vessel, the Mabel Alice, has a long and distinguished track record spanning more than 30 years which, as skipper, Andy Iannetta explains, has been made possible thanks to the durability and performance of its original Cat 3408 engines, supplied by Finning Power Systems (Finning).

"Mabel Alice was built as an RNLI vessel and served as the replacement for the ill-fated Solomon Browne, which tragically lost all of its crew during the Penlee lifeboat disaster in Cornwall in December 1981. As one of the RNLI's sole engine providers, Finning was commissioned to install the pair of Cat 3408 diesel marine engines and full propulsion system as well as undertaking all routine maintenance and service work.

Twenty years later, Mabel Alice was sold by the RNLI to Strathclyde Police where she was used to patrol the River Clyde and waters in the west coast of Scotland. Then, around four years ago, we purchased her for our marine survey and support business, with the original Finning engines still intact and performing without fault.

"We undertake a wide range of services for our clients including marine wildlife surveys, crew transfer to vessel, dive support and inland safety services to name a few.

It's paramount that Mabel Alice remains fully operational, 24/7 as any vessel downtime means that we are losing revenue, not to mention affecting our customer relationships.
"The Cat engines which Finning provided have proved to be one hundred per cent reliable. We have not had a single breakdown whilst out at sea or had any issues that have prevented Mabel Alice being able to undertake charters. Cruising at around 12 knots or 1700 rpm, diesel consumption is clearly a concern for us, but three decades on, the Finning engines are still performing efficiently and delivering the maximum fuel economy for the vessel.

"In our line of work, we have to make the safety of our passengers and crew our first priority. The Finning engines and propulsion system have been engineered to deliver dependable, controllable power so that we can, for example, hold the vessel steady whilst wind farm crews disembark or important survey work is undertaken.

"Finning has been supporting us during the past four years with genuine Cat spares and we have recently undertaken our first scheduled oil sampling service. As expected, this has revealed that the engines are performing with high efficiency and that no remedial work is required.

"We have been very pleased with the performance of the Cat engines as well as the support we have received from Finning and are currently in discussions with the company about the power system for a new vessel that has been commissioned with South Boats in the Isle of Wight.

Offshore Marine Support is exhibiting at Seawork on stand number A263 alongside KPM. Further information about Finning's marine power capabilities is available on the Finning Power Systems stand number A3.