Timber-carrier Aground on UK's Farne Islands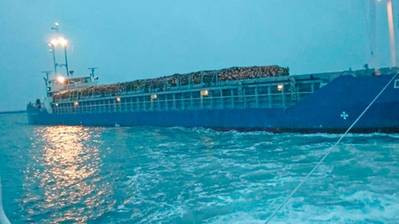 'MV Danio' is stranded on the Blue Caps rocks on an island off the Northumberland coast, with a metre wide hole below the water line.
Salvage crews were deciding on Sunday how to rescue an 80m-long ship which ran aground near a lighthouse in an important wildlife haven, reports STV News.
The 80-metre MV Danio was heading from Perth, Scotland to Antwerp, Belgium, when it struck rocks off the Farne Islands, three miles off the Northumberland coast at 4.30 am on Saturday,
The six crew spent the night aboard the ship, which lifeboat crews found had a metre-wide hole below the waterline on the port side near the bow. The vessel is carrying timber, and despite the damage there were no reports of any fuel leaks after she got stuck on the Blue Caps, close to the Longstone Lighthouse.
High tide passed on Saturday night without any attempt to refloat the vessel, as salvage crews were keen to take their time and prepare the salvage plan.
Source STV News