Timber-carrier Refloated After Fortnight on Beach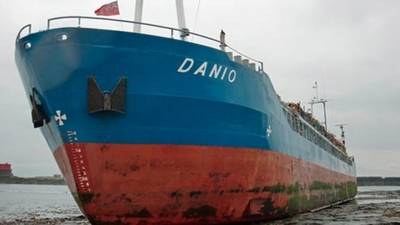 The 'MV Danio' has been successfully re-floated off the Farne Islands, off Northumberland, on the coast of NE England.
Checks are still being made but so far there are no reports of any pollution, reports the Maritime and Coastguard Agency.
At 04.30 on Saturday 16 March, the MV Danio reported to Humber Coastguard that they had run aground on the Farne Islands. Seahouses RNLI all-weather lifeboat attempted to tow the vessel off the rocks at high water but to no avail. Attempts to re-float the vessel were hampered by difficult weather conditions.
Hugh Shaw, Secretary of State's Representative for Maritime Salvage and Intervention said:

"I am delighted that the salvors have successfully re-floated the ship without any damage to the environment. I would like to take this opportunity to offer my thanks to all concerned with the operation. In particular I would like to thank Titan Salvage for their professionalism in carrying out the operation in the extremely difficult weather conditions experienced since the grounding. 


"In addition the operation could not have taken place without the support of the ship owners, insurers, the Maritime and Coastguard Agency, the RNLI and the local boats who assisted with their local knowledge of the area and exceptional seamanship skills. Finally I would like to thank the north-east of England Environment Group and the National Trust for their advice and support throughout the operation.

"The temporary exclusion zone around the site of the grounding has now been removed."