Seabourn Name Official Ship's Timekeeper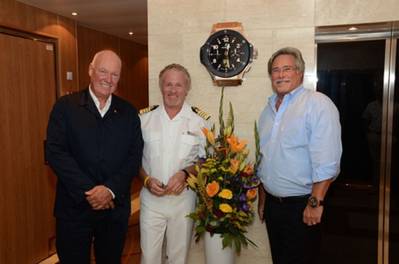 Swiss watchmaker Hublot has been appointed as official timekeeper aboard Seabourn cruise ships.

Seabourn guests on board the line's six cruise ships will now be kept abreast of the current ship's time by means of Hublot wall clocks.

Seabourn Quest Captain Geir-Arne Thue Nilsen welcomed Carnival Corporation and plc Chairman and CEO Micky Arison and Hublot's Chairman of the Board Jean-Claude Biver aboard the line's newest ship during a port call at Cannes, France.

Captain Thue Nilsen led a personal tour of the Seabourn Quest, pointing out several of the elegant Hublot wall clocks now displayed at various locations on the ship.

Seabourn feels that the clocks are a perfect complement to the stunning beauty of the ships themselves, adding a luxurious accent and an eye-catching cachet to various locations throughout each vessel.

Seabourn is a member of an alliance that includes Carnival Cruise Lines, Holland America Line, Princess Cruises, Cunard Line and Costa Cruises, all dedicated to education and promotion of best practices for protecting the marine environment.

In the photo from left to right: Jean-Claude Biver, Hublot's Chairman of the Board; Seabourn Quest Captain Geir-Arne Thue Nilsen; and Micky Arison, Carnival Corporation & plc Chairman and CEO.