Titan LNG Christens FlexFueler001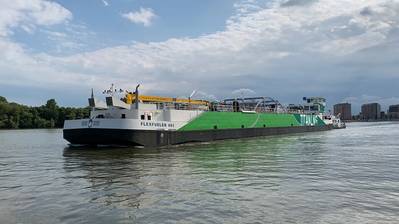 Titan LNG held the christening event for the FlexFueler001 in collaboration with the Port of Amsterdam. This event marks the official commencement of safe, efficient and cost-effective inland waterway LNG bunkering in the ARA region.
At the event in the Port of Amsterdam a mix of LNG enthusiasts gathered, including customers, business partners, and manufactures of the FlexFueler. Yvonne Brouwer, the partner of Niels den Nijs (CEO Titan LNG) performed the ceremony and broke the champagne bottle across the bow whilst wishing the vessel and the crew smooth sailings.
At the moment, the FlexFueler001, is safely operated by Amulet Marine Services. She serves vessels ranging from tankers, containerships to ro-ro's. The operations are becoming increasingly efficient, both in the Port of Amsterdam, the Port of Rotterdam, and in the near future in Antwerp as well.
The FlexFueler001 is the first of a series of vessels. Titan LNG will deploy the FlexFueler002, currently under construction and ready by mid 2020, in the Port of Antwerp. The third vessel will be announced in the coming months.