Navy Week Draws Tourists to Port of Los Angeles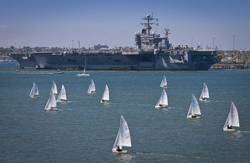 An estimated 42,600 visitors toured four military vessels as Navy Week at the Port of Los Angeles came to a close with the departure of the U.S.S. Abraham Lincoln on Monday.

"We'd like to thank San Pedro, the Port of Los Angeles, the City Los Angeles and the thousands of visitors who participated in Navy Week," said Commander Christopher Scholl. "We greatly appreciate the interest and enthusiasm this visit generated. We're grateful to those who waited patiently to visit these magnificent ships and crew. The United States Navy is a global force for good, and it was an honor to bring America's Navy home to the citizens of Los Angeles."

"It was a privilege to host Navy Week and we're thrilled that...visitors were able to tour these ships, experience the LA Waterfront and visit our local businesses," said Port Executive Director Geraldine Knatz, Ph.D. "It was a great week for the Navy and the community. We hope to welcome the Navy back again in 2012."

Businesses in Ports O' Call and downtown San Pedro reported significant increases as thousands of tourists and Navy personnel visited throughout the week. The Los Angeles Maritime Museum also drew record crowds.