Track & Turntable System for Panama Canal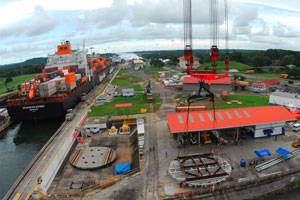 The Panama Canal Authority (ACP) updated its track and turntable system located in the Canal's Gatun Locks. The system continuously transports locomotives through the locks to assist transiting vessels. Previously, vessels stopped midway through the locks to exchange locomotives, increasing Canal Waters Time or the average time it takes a vessel to navigate the Canal. The new system enables two additional Panamax vessels to transit the waterway every day.

"The new track and turntable system significantly enhances the efficiency and safety of the Canal," said ACP Executive Vice President of Operations Manuel Benitez. "Vessels are now able to pass through the Gatun Locks with the same set of locomotives, saving them significant amounts of time. It's a great step forward for the ACP and our customers."

The ACP undertook a number of renovations to complete the modernization including the rebuilding of the entire return track, replacing both turntables and creating additional locomotive parking space.