Traditional and Innovative Marine Solutions In Focus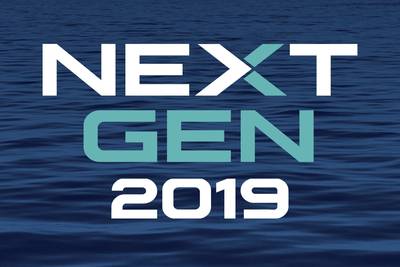 Three one-day workshops - Southampton, U.K. - April 2-4, 2019
NEXT GEN 2019 is a series of specialist one-day workshops run back-to-back on April 2-4, 2019. The program combines hot topics and international maritime experts with dynamic panel discussions. The Grand Harbor is a conference venue overlooking the historic port of Southampton, U.K. Workshop Lead John Haynes said, "In recent years less people are expected to do more work and time is becoming scarce for everyone in the marine industry. Our focused one-day workshops are designed to deliver a unique mix of sessions that are highly relevant to all sectors. I have personally asked a number of organizations what are their most current issues and these have shaped the NEXT GEN 2019 program."
NEXT GEN Man Overboard Prevention & Recovery on April 2, 2019 is relevant to all people working on or near to water. Expert presenters highlight lessons learned and give viable methods to reduce loss of life at sea, in harbors, docks and marinas.
NEXT GEN Safety Systems & Equipment Workshop on April 3, 2019 delves into future requirements along with integration of traditional and innovative systems into the maritime workplace to improve safety, communication and situational awareness.
NEXT GEN Shock Mitigation Solutions Workshop on April 4, 2019 focuses on managing the risk of operating planing craft in waves. Extreme applications have driven rapid development and cost effective solutions are now becoming available for lower speed vessels.
The fast moving Workshop style program brings together an international group of experts armed with the latest knowledge to identify problems that affect the sub IMO / sub 24 meter maritime sector worldwide and highlight potential solutions. The unique knowledge gained from NEXT GEN presentations and panel discussions helps to shape decisions that lead to improvements for in-service equipment and procurement.
NEXT GEN 2019 Presenters
Commander Adam Northover - Fleet Navigator, Fleet Seamanship Officer & MOD Boats Manager - Royal Navy
Jon Lewis - Head of Health Safety & Sea Training - Border Force Maritime Command
Captain Andrew Moll - Deputy Chief Inspector - Marine Accident Investigation Branch (MAIB)
Bill Swanton - Survival Officer (Institute of Naval Medicine) - Royal Navy
Paul Savage OBE - Maritime Medical Solutions Consultant - Saviour Medical
Alistair Hackett - Managing Director - Ocean Safety
Captain Don Cockrill MBE FNI - Secretary General - UK Maritime Pilots Association (UKMPA)
Duncan King - Head of Amphibious Trials & Development - Royal Marines
Lewis Arnold - Operations Manager (Lifeboats) - Royal National Lifeboat Institution (RNLI)
Simon Wood Power - Managing Director - Supermarine Powerboats
James Glover - Managing Director - DYENA
James Coker - Account Manager Northern Europe - Seakeeper
Dr. Tom Gunston - Chairman - British Standards Whole Body Vibration Panel
Dr. Thomas Coe - Senior Consultant - Frazer-Nash Consultancy / Naval Design Partnership
Pete Sheppard - Senior Naval Architect - Royal National Lifeboat Institution (RNLI)
Sean Gerrett - Sales Manager - Shockwave
James Taylor - President & CEO - SKYDEX Technologies
Jonathan Young - Managing Director - Scot Seats
Andrew Hughes - Business Development Europe – SHOXS Maritime Operations Specialist - National Maritime Operations Centre - HM Coastguard
Hans van der Molen - Head of Technical Projects & Innovation - Royal Netherlands Lifeboat (KNRM)
"When groups of maritime professionals get together their shared knowledge and experiences can improve both the performance of their organisations and the seafarer workplace. There is plenty of networking time throughout the day and the informal evening receptions enable lively discussion," Haynes added.
NEXT GEN Workshop days are relevant to workboats, pilot boats, patrol, search and rescue, survey, wind farm support, superyacht tenders, training and charter vessels. U.K. attendees include Border Force, Ministry of Defense, HM Coastguard and the RNLI. International attendees include professional and military organisations, boat builders, equipment manufacturers, service providers and classification organizations.
There is a discount for members of British Marine, UKMPA, RINA, YBDSA, UKHMA, SSA. Supporters of the event include Southampton Marine & Maritime Institute, University of Southampton.
NEXT GEN 2019 Workshops Information www.nextgen-marine.com