BIRNS Trailblazes with New Titan™ Floodlight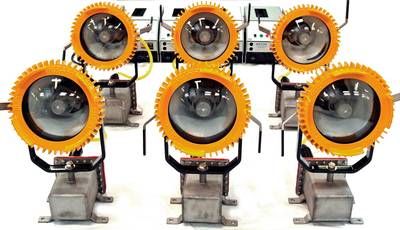 US-based BIRNS, Inc. has been blazing new trails in marine illumination for the last six decades and now introduces the newest lighting innovation in the sea: the BIRNS Titan™ 4,000 Watt floodlight.
This robust 4,000 watt, intensely bright lighting system delivers 380,000 lumens with its hydrargyrum medium-arc iodide (HMI) lamp. The powerful lamp features a high Color Rendering Index (CRI) of Ra > 90 and 6,000K color temperature. It provides massive light output, mixing mercury vapor with metal halides in a quartz-glass envelope, and energizing the resulting mixture with two tungsten electrodes of medium arc separation.

BIRNS say that the housing on this new light system is especially rugged—crafted from tempered cast aluminum. The lens is powerfully constructed to withstand intensely rigorous salvage, security and offshore applications, made from tempered borosilicate 19mm thick glass. The BIRNS Titan also comes with a sturdy stainless steel mounting yoke, so the light can be adjusted and set in a wide range of positions. It includes an exclusive power system which integrates BIRNS high performance metal shell subsea connectors, and a robust braided shielded cable. The light's output is controlled with an advanced dimmable electronic ballast.

About BIRNS, Inc.,
Founded in 1954, BIRNS, Inc. is an ISO 9001:2008 certified global leader in the design and manufacturing of high performance lighting and connector systems for deep ocean, marine, military and nuclear power applications.
http://www.birns.com/