New Alfa Laval Test & Training Center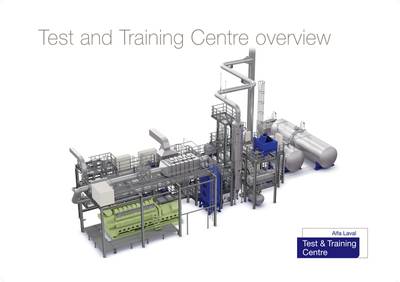 Work continues on the Alfa Laval Test & Training Center in Aalborg, Denmark, a facility that will greatly expand Alfa Laval's marine testing capabilities. The center, which will serve as a springboard for faster and more effective R&D, will further strengthen Alfa Laval's capacity for innovative marine solutions that optimize the performance of onboard equipment, save energy and help ship owners comply with environmental legislation. While the center's official inauguration is not scheduled until 15 January 2014, some full-scale prototype testing will be initiated during the month of October.


"For the first time, it will be possible to test equipment and applications on the scale of a seagoing vessel – but with the control and convenience that only exist on land," says Peter Leifland, President of Alfa Laval's Marine & Diesel Division. Among the applications he refers to is exhaust gas cleaning, which will be a major focus of the centre as Alfa Laval refines a new generation of PureSOx. "Alfa Laval's investment in this centre underscores our dedication to developing our capabilities within the marine industry further," Leifland says.


The new facility, which is taking shape on the site of the former Aalborg Shipyard, will comprise a test area of 250 m2 with an adjoining control and training complex. Built around a large 2 MW marine diesel engine, it will be supplied with seawater from the Limfjord, a body of water connecting the Kattegat Strait with the North Sea. Simply put, the centre will be the full-sized, land-based equivalent of a commercial vessel's machinery room.


Comprehensive testing under real-life conditions
Conducted under actual operating conditions, the testing and research activities supported by the Alfa Laval Test & Training Center will involve the broad range of Alfa Laval equipment and solutions. As on an actual vessel, equipment types will not be isolated, but rather organized into major process lines:
Fuel line, including fuel conditioning modules and separation modules
Steam line, including waste heat recovery unit, hot well tank, steam dump condenser and desalination unit
Exhaust gas line, including selective catalytic reduction units, boiler and scrubber
Ballast line, including filters and advanced oxidation technology reactor

Overseeing all equipment will be a unified control system, steered from a dedicated room at the facility. Remote access to the control system will even be possible from other Alfa Laval sites, so that testing can be observed from both near and far.


Quicker responses to a changing marine industry
The size of the Alfa Laval Test & Training Center, as well as Alfa Laval's investment in the facility, is unprecedented within the marine industry. As such, it clearly affirms the company's commitment to addressing the vast challenges the industry faces. As laws and economic concerns increase the demand for energy efficiency and environmental protection, ship owners and ship operators require new and reliable solutions at a faster pace than ever before.


"Opening this center shows Alfa Laval's commitment to innovation speed," says Lars Skytte Jørgensen, Vice President of Alfa Laval Product Centre Boilers, the organization responsible for the facility. "By making it easier to test and verify new designs, it will help us to bring energy-efficient, environmentally conscious and commercially viable systems to market more quickly. But it will also allow us to explore enhancements with existing equipment, so that changing needs can be met with what already exists on board."


Convenience and control that facilitate development
One key reason the Alfa Laval Test & Training Center will speed up solution development is its round-the-clock availability compared to that of a commercial vessel. "A commercial vessel has its own priorities, which naturally makes testing more complicated and time consuming," Skytte Jørgensen explains. "Shipyard time may be needed to get the equipment on board, and harbour schedules can be influenced by weather, business changes and other circumstances. Instant or even easy access to the testing vessel is anything but a given."


In addition, the new facility will allow more detailed regulation of all test parameters, despite its massive scale. This will be due in part to the integrated control system, but also to the staff's deep knowledge of the equipment and their ability to examine it at length along with first-hand data.


"Testing at sea and against the unexpected will continue to be a part of Alfa Laval's product development," says Skytte Jørgensen. "But the new centre will give us the best of both worlds. When the conditions are both real and controlled, we can be absolutely certain of what we measure and observe."


A valuable resource for customers as well
The new facility will be an important step for Alfa Laval in expanding R&D and cementing its innovation leadership. But it will mean even more for Alfa Laval customers, who will be able to observe new technologies at work and receive training in their use at the center.


"The Alfa Laval Test & Training Center will be mutually beneficial," says Marine & Diesel President Peter Leifland. "It will allow Alfa Laval to give customers more innovative and reliable answers to today's challenges, and to do so at a much accelerated pace. Moreover, it will provide a space for customers to explore those answers first-hand, on a scale that up to now has only been possible on board."