QStar ROV Training Center Expands ROV Fleet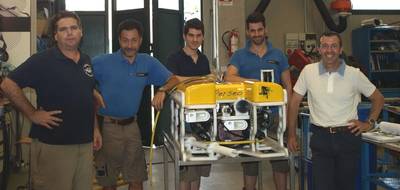 QStar SL ROV Training Center, the first ROV Training School in Spain and a worldwide training establishment member of the International Marine Contractor Association, IMCA, has expanded its ROV fleet with the purchase of the ROV Ageotec Perseo in addition, among others, to the ROV Ageotec Sirio, purchased in 2011.

With this new entry, QStar has enhanced its range of vehicles with a "multipurpose" ROV for observation and inspection, which ranks among the Micro and the Work Class ROV.

Main standard Perseo's specifications are: Qperative depth 600m, Dimensions 980mm length x 710mm width x 510mm depth, Weight 80kg, two real time high resolution video-channels, two 150W lamps with control intensity regulator, Payload adjustable between 8kg and 15kg, four serial data lines on single-mode fibre optic umbilical, Flux-gate compass unit with solid state rate gyro sensor for high azimuth stability, Electronic depth sensor, Auto-heading and Auto-depth functions. Highly modular design: all features can be upgraded and a wide variety of sensors and accessories can be installed, including Scanning Sonar System, Dual Head Profiler, Boom Camera, Bathymetric System, CP Probe, Underwater Metal Detector, Acoustic Positioning System, Multifunction Mini-Manipulator and more.

The Perseo recently delivered to QStar (July 2013), is configured for an operational depth of 600m and is equipped with CP probe.