Texas A&M Training Vessel to Visit New Orleans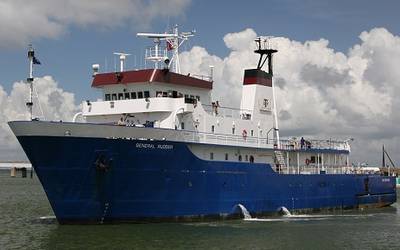 The Port of New Orleans welcomed Texas A&M University at Galveston's training vessel, TS General Rudder. The Texas Maritime Academy vessel and 50 cadets will be docked at the Julia Street Cruise Terminal through Thursday, Aug. 1.

The TS General Rudder comes to the Port of New Orleans on its first ever visit to the Crescent City after making stops at several other ports earlier this year including Mobile, Ala., and Fort Lauderdale, Key West, Pensacola, and Tampa, Fla.

While at the Port, cadets will conduct training exercises such as standing watches and vessel maintenance. Organized activities are also scheduled for the cadets, including a visit to the National WWII Museum.

The Texas Maritime Academy is one of six state maritime academies in the nation. Cadets train in the areas of seamanship, navigation and ocean engineering.

The TS General Rudder is named for General Earl Rudder who led the U.S. Army Rangers at Pointe du Hoc during the D-Day invasion and later became president of Texas A&M University. The ship began her career as an antisubmarine vessel patrolling the North Atlantic. She later became the flagship training vessel of the United States Merchant Marine Academy. The TS General Rudder has served every branch of the Armed Forces and has hosted cabinet members, senators and congressmen.