Transatlantic Yacht Race Features All the Fours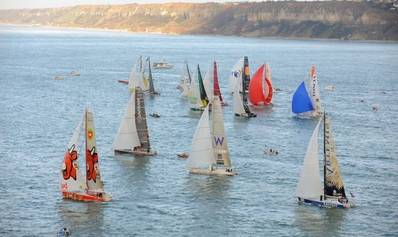 44 duets, four classes and four winners will feature in the upcoming Transat Jaques Vabre, the two handed race across the Atlantic from the Port of Le Havre, one of the strongest fleets to be mustered in twenty years.
On Sunday November 3rd, 2013, 88 co-skippers on 44 different craft will take to the starting line. Then the IMOCA monohulls and the Class 40 fleets will set off on a direct course for Itajai in Brazil.
The multihulls, that is the MOD70's and the Multi50's will complete a prologue race which will count for the overall result before they take off for the Brazilian finish line a few days later.
The course distance is 5400 miles and the objective is that the first boats arrive around 19th November 2013 which is when three weeks of festivities will begin, celebrating four different class winners.

A big party for the Transat Jacques Vabre
"Le Havre is proud to be a partner city start of the Transat Jacques Vabre for 20 years. At the same time it's a great race, this is a great, popular event. In 2011, we welcomed 300,000 visitors to the village and we hope to do even better this year", says Edouard Philippe, Deputy Mayor of Le Havre .

Clotilde Bednarek, Marketing Director Coffee Mondelēz International commented: "The Transat Jacques Vabre is a sporting event but also a human adventure. For the 20th edition, we are once again partnered by Jacques Vabre alongside all the skippers with whom we share the same values : passion, commitment, respect…".