Feeling it at Finisterre: Class 40 Transatlantic Race Yachts Off NW Spain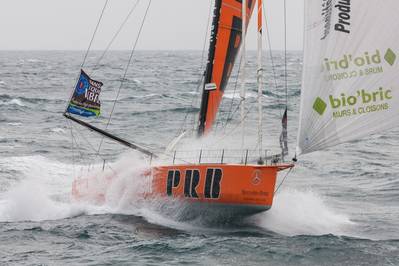 Race organisers report that the Transat Jacques Vabre's Class 40 had a tough time off the NW corner of Spain last night and this morning in strong, gusty winds and big seas which resulted in the British Class 40 Concise 8 having to retire with rudder damage.

The two leaders in the class, which had 26 starters, are still just less than 100 miles ahead. PRB, sailed by 2004-5 Vendée Globe winner Vincent Riou along with Jean Le Cam, are challenging for the lead again in the IMOCA Open 60 fleet west of the Canary Islands.
In the Multi50 Class Actual have halved the lead of FenetreA-Cardinal since this morning, back to 50 miles, whilst the MOD70's are touching the first of the Doldrums, contemplating a passage to the Equator in seven days since leaving Le Havre.

British pair out

Unfortunately British duo Ned Collier-Wakefield and Sam Goodchild know the hollow feeling of disappointment at having to retire from the Transat Jacques Vabre only too well. In 2011's last edition of the race from Le Havre across the Atlantic the young pair of co-skippers had to retire into the Azores after suffering damage in a major storm.



This morning, on the sixth day of the race, in the benign sunshine of Muros, just to the south of La Coruna they had were coming to terms with their abandonment from the 11th edition of the race from Le Havre to Itajaí after sustaining damage to their port rudder yesterday evening some 45 miles NW of Cape Finisterre.



The Collier-Wakefield and Goodchild incident was the most terminal among several problems reported from the Class 40 fleet that was enduring some robust trade winds conditions and big, unruly seas off the NW corner of Spain.