Weather-bound Trans-Atlantic Yacht Race Starts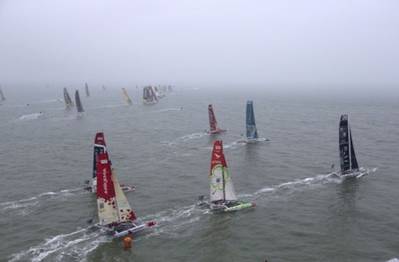 The 11th edition of the Transat Jacques Vabre yacht race started under grey, drizzling skies in light winds at 1300hrs (local) off Le Havre's Saint Adresse beach. The 44 boats, 26 Class 40s, six Multi 50s, 10 IMOCA Open 60s and two MOD70s broke the start line doing 8 knots.
The boats head three miles to the France Info mark before heading down the Channel towards Itajaí, Brazil.

The Class 40 fleet are required to make a weather stop in Roscoff, 190 miles from Le Havre to sit out a big low pressure system which would probably hit them in the Bay of Biscay at the weekend.
At the France Info buoy, three miles from the start line the race order was:
MOD70:
1-Edmond de Rothschild,
2-Oman Air - Musandam

IMOCA:
1-Macif,
2-Maître Coq,
3-Safran,
4-PRB,
5-Bureau Vallée,
6-Votre Nom autour du Monde,
7-Team Plastique, 8-Initiatives Coeur...

Multi50:
1-Actual,
2-Arkema,
3-Fenêtré A Cardinal,
4-Maître Jacques,
5-Rennes Métropole Saint-Malo Agglomération,
6-Vers un monde sans sida
Class40:
1-SNCF-Geodis,
2-GDF Suez,
3-Dunkerque,
4-Watt & Sea,
5- BET 1128,
6-79 Matouba,
7-Mare ...