Simrad, B&G Introduce Integrated AIS Transponder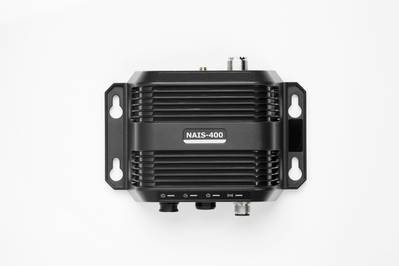 Marine Electronic Leaders' Powerful NAIS-400 Transponder and NSPL-400 Antenna Splitter Increase On-The-Water Awareness for Unparalleled Safety

Simrad Yachting, world-leader in the design and manufacture of professional-performance marine navigation, autopilots, communications and fish-finding systems, and B&G, the world leader in marine instruments, autopilot systems and tactical software solutions for the sailing market — announced today the new NAIS-400 AIS transponder and NSPL-400 antenna splitter. Offering plug-and-play integration with Simrad Yachting, B&G and Lowrance chartplotter/multifunction displays and VHF devices, the new transponder and splitter allow boaters to overlay AIS vessel tracking awareness and safety data on their multifunction systems' cartography, providing unparalleled on-the-water safety and a more complete picture of a boat's surroundings.

"Incorporating the NAIS-400 and, if needed, NSPL-400 antenna splitter into a system with one of our award-winning multifunction displays and range of best-in-class radar and VHF offerings provides a key component to a complete situational awareness solution," said Louis Chemi, chief operating officer, Navico Americas. "A full system featuring our latest Class-B transponder and intelligent splitter provides the ultimate in communication and navigational safety, and ensures boaters can see all potential dangers, as well as be seen while navigating busy shipping lanes and congested ports."

The state-of-the-art NAIS-400 is a fully integrated Class-B AIS transponder that shares and regularly updates a vessel's position for precise situational awareness. Using sophisticated automatic digital time-sharing technology, which enables the exchange of static information such as MMSI (Maritime Mobile Service Identifier) Number, vessel name, call sign and type, the system also shares dynamic data including course, distance, speed and more, from ship to ship and ship to shore-based traffic stations. When connected to a compatible chartplotter, the NAIS-400 will show the position and movements of all AIS-equipped vessels within range in order to substantially reduce the risk of collisions in areas of high traffic such as shipping channels.

The lightweight, compact and rugged, black box AIS solution features an integrated 50-channel GPS receiver and multiple connection options including NMEA 0183®, NMEA 2000®, USB and NMEA 0183 multiplexing for installation flexibility. The NSPL-400 antenna splitter, combined with the NAIS-400, offers use of a single antenna for VHF/AIS/FM radio when installation of another antenna is difficult or too costly. The NAIS-400 and NSPL-400 operate at extremely low power levels keeping power consumption to a minimum for maximum efficiency. Both units are waterproof to the IPX7 (submersible) standard.

The Simrad and B&G NAIS-400 and NSPL-400 are available begining October 1, 2012 from authorized Simrad Yachting and B&G dealers for $929 and $249, respectively. For more information on the NAIS-400 and NSPL-400 or the entire line of Simrad Yachting and B&G branded professional-grade marine electronics, please visit www.simrad-yachting.com and www.bandg.com.