LQP-1 Topside Transport Completed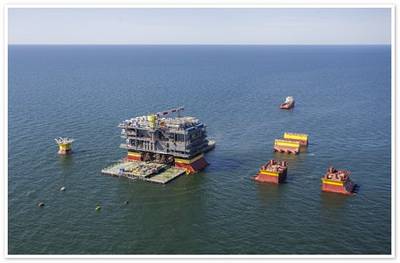 Transportation of the latest facility for the Vladimir Filanovsky oil field – the topside section of the living quarters platform (LQP-1) – has been successfully completed. The facility was built and prepared for transportation under the survey of Russian Maritime Register of Shipping (RS) at the Shipbuilding Yard Krasnye Barrikady, JSC in the Astrakhan region, Russia.

The facility was transported on the Yury Kuvykin transport-assembly barge from the port of Astrakhan (Shipbuilding Yard Krasnye Barrikady, JSC) to the installation site in the northern part of the Caspian Sea (170 km south of Astrakhan and 20 km east of Maliy Zhemchuzhniy Island). Marine operations to transport facilities of this kind are extremely complex and their success depends on many factors: the presence of the required number of tugs, restricting tug speed, favorable wave height and wind speed, the time of a day, a good weather forecast for the entire tugging operation and other factors.

In the near future, as soon as weather conditions allow, work on attaching and installing the LQP-1 topside section to its substructure will start. Once this is done, work will continue to complete construction and fitting out of the facility. RS specialists will also survey these operations.