'Door-to-Deck' Crew Transportation Service Launched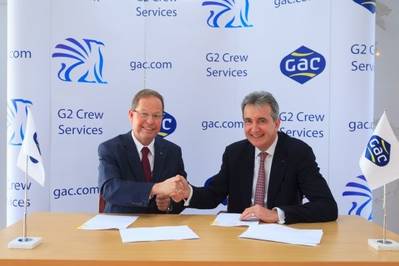 Marine services specialists GAC & crew travel providers Griffin team up as G2 Crew Services Ltd. to integrate crew joining services.

The joint venture combines the expertise of Griffin, which coordinates the on-time arrival of 750,000 crew each year, with the local knowledge, contacts and resources of the GAC network covering more than 1,000 ports around the world.

G2 Crew Services aims to provide a total transportation package for crew members joining ships worldwide, including the 'last mile' between their arrival airport and their vessel. A central 'control tower' in Mumbai monitors the safe movement of crew and coordinates flight schedules, land transportation and vessels' ETAs to provide the best on-time arrival of joining crew at their final destination and Griffin's unique HomePort concierge service provides 24/7 support to crew.

Payment and cost control is simplified through a QuickBill sent within 7 days of the crew's arrival, detailing the cost of all services in a single currency, eliminating the need for 'prefunding' and the reconciliation with a 'final disbursement' account.

The broader crew rotation management service, which will be launched inFebruary next year, will incorporate the new Homeport dashport. The IT system will enable clients to monitor all crew movements against their planned rotation, from the minute they leave home to the moment they arrive on deck, and they will also receive alerts confirming arrival times.

In the picture: Griffin's Executive Chairman Simon Morse and GAC Group President Lars Safverstrom.