VT Halter Launches Barge for Bouchard Transportation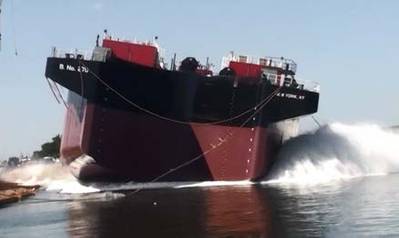 Bouchard Transportation Co., announced the launch of Barge B. No. 270, the first of two Articulated Tug Barge (ATB) units constructed by VT Halter Marine, Inc., a company of Vision Technologies Systems, Inc.
The barge was launched at the Pascagoula Shipyard Operations in Pascagoula,
Mississippi
, on Friday, May 1, 2015, following the launch of tug Kim M. Bouchard, part of the ATB unit, at the Moss Point Marine facility in Escatawpa, Mississippi, on February 26, 2015. When paired, Kim M. Bouchard and Barge B. No. 270 will be delivered to Bouchard as part of its ongoing fleet expansion program.
Barge B. No. 270 measures 625 feet by 91 feet by 47 feet, has a 250,000-barrel capacity, and is ABS and USCG certified for Jones Act service. The Kim M. Bouchard is a 10,000hp twin screw ATB tug and is classed by ABS as XA1 Towing Vessel, Dual Mode ATB, USCG Subchapter M, and is equipped with an Intercon Coupler System. When paired with Barge B. No. 270, the unit will be used to transport liquid petroleum for Bouchard Transportation Co., Inc. (Bouchard). The sister unit, M/V Donna J. Bouchard and B. No. 272 is also currently under construction at VTHM.
"Launching the B. No 270 is another significant milestone for Bouchard," said Morton S. Bouchard III, President and CEO of Bouchard Transportation Co., Inc. "Once married, the Kim and B. No. 270 will be Bouchard's eighteenth ATB unit and the safest and most technologically advanced unit of its kind. I'm looking forward to delivery and I am grateful to everyone involved in construction for another fine job."
"We are proud to have launched another quality and efficiently built barge for our long standing customer Bouchard Transportation Co., Inc." said Bill Skinner, Chief Executive Officer, VT Halter Marine. "We are pleased to have been chosen by The Bouchard Family to construct their modern, safe and efficient Jones Act ATB vessels."