Sunken Treasure Hunters Odyssey Report Progress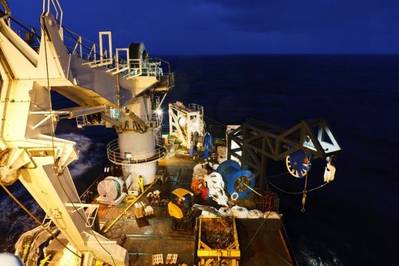 Odyssey Marine Exploration Inc. report their progress on work on 'SS Gairsoppa' & 'HMS Victory'.
The chartered vessel working on the SS Gairsoppa project, the Seabed Worker, will make a scheduled port call in Cork, Ireland, beginning August 15, 2012. After taking on fuel, supplies and changing personnel, the Seabed Worker will immediately return to the site to continue recovery operations. Meanwhile a 10-week accumulation of silver in the smelting and monetization process from the first load of silver delivered to a UK port.
Preliminary assay results, testing a sample of the silver already recovered and delivered, have been received. A sample of 30 of the silver ingots reveals silver (Ag) composition of between 91.661% and 92.051% which is exactly in line with our expectations. Two of the bars were also tested for gold (Au) content. As these bars registered between .030% and .040% gold, additional bars will be assayed and steps will be taken to recover the gold during the processing.
Odyssey also reported today on progress with the HMS Victory project. The Company has concluded the archaeological pre-disturbance phases outlined in the Project Design which were to be completed prior to the recovery of artifacts. A detailed site map is being compiled and will feature extensive documentation relating to the site formation obtained with the use of a number of specialized remote sensing technologies and photomosaic imagery.
Mapping and identification of anomalies lying outside the site have also been completed. This process has provided a better understanding of the extent of the site, including identification and recording of artifacts associated with the shipwreck that have either been dragged off the site by trawlers or deposited during the sinking process. The Odyssey Explorer will be engaged in additional search and target inspection operations as a continuation of its "Atlas" project while awaiting instructions from the Maritime Heritage Foundation to proceed to the next phases of operations on the Victory site.